Plano Concave Lenses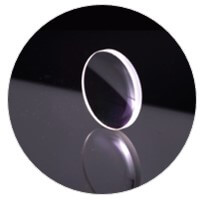 Plano-Concave lenses are manufactured with a flat surface and a concave surface to provide a negative focal length. Shanghai Optics as one the top optical component manufacturers from China, produces high quality Plano-Concave lenses out of many variations of optical glass, fused silica and Infrared materials, and with the aid of the modern thin film technology, advanced coatings such as anti-reflection or V-coatings can be applied to these spherical lenses to provide added performance. These lenses are commonly used in applications that require beam divergence such as Beam Expanders and Projection lenses.
Our manufacturing facility produces lenses with an outer diameter as small as 2.3mm and extending up to sizes of 1000 mm. The material selection process first begins with transmission requirements, and then other factors such as purity, bubble levels and uniformity will be taken into consideration depending on the requirements of the application.
Our experienced design and manufacturing engineers can provide DFM (design for manufacturing) cost effective solutions for researchers, engineers and scientists with cutting edge advantages.
Factory Standard – Contact us for manufacturing limit or custom specifications.
Shape: Plano-Concave
Diameter Tolerance: ± 0.05mm
Thickness Tolerance:  ± 0.05mm
Radius:± 0.3%
Focal Length Tolerance: ± 1%
Surface Quality: 40-20 Scratch-Dig(After Coating)
Surface Flatness: λ/4 @633 nm
Centration: < 3 arc minutes
Clear Aperture: > 95% of central dimension
Material
Schott, Ohara, CDGM Optical glass, Corning 7980 Fused Silica, UV fused silica (JGS1), infrared fused silica (JGS3) and calcium fluoride (CaF2), Barium fluoride (BaF2) and other crystalline material.
Germanium, Zinc Selenide (ZnSe), Zinc Sulfide(ZnS) and other infrared materials.
Plano-Concave lenses Capabilities
| | | |
| --- | --- | --- |
| Specifications |  Factory Standards |  Manufacturing Limit |
| Dimension Tolerance | +/-0.05mm | +/-0.01mm |
| Center Thickness Tolerance | +/-0.05 mm | +/-0.01mm |
| Radius Tolerance | +/-0.3% | +/-0.1% |
| Surface Quality(S/D) | 40-20 | 10-5 |
| Irregularity | 1/4 Lambda | < 1/10 Lambda |
| Centration(arc min) | 3′ | 1′ |